16 March 2022
ISIKLE's Evaluation Exchange is a partnership between UCL and voluntary and community sector organisations in Camden and East London that aims to improve evaluation practice. This blog outlines the work of Lifeafterhummus who provide culturally appropriate food parcels for local residents around Somers Town.
Lifeafterhummus Community Benefit Society is based in Somers Town, established in 2016, with an original aim to provide free education on nutrition through cooking classes. However, this changed with the onset of the COVID-19 pandemic. LAH saw the disproportionate impact the pandemic was having within the Black, Asian and Minority ethnic (BAME) community and therefore LAH saw the need to step in and change the support they provide.
LAH now provide culturally appropriate food parcels to local residents, which are made up from surplus food. LAH also use this as a way of initially engaging with residents to provide much needed social prescriptions including referrals for debt advice, grants, care navigation, welfare rights, and domestic violence and employability – where possible – working alongside local partners and the council. LAH, despite their small size are locally rooted and have access to 50 local volunteers who help to support circa 80 families in the immediate local community plus 10 local hostels, 1 after-school club and 1 church group. 1 hostel in particular supports young people and refugees, another uses the surplus to provide life-skill session to their residents through cooking classes. LAH's motivation to take part in the exchange was to develop an understanding of their Social Return of Investment (SROI), including the impact their activities were having on the well-being of their beneficiaries.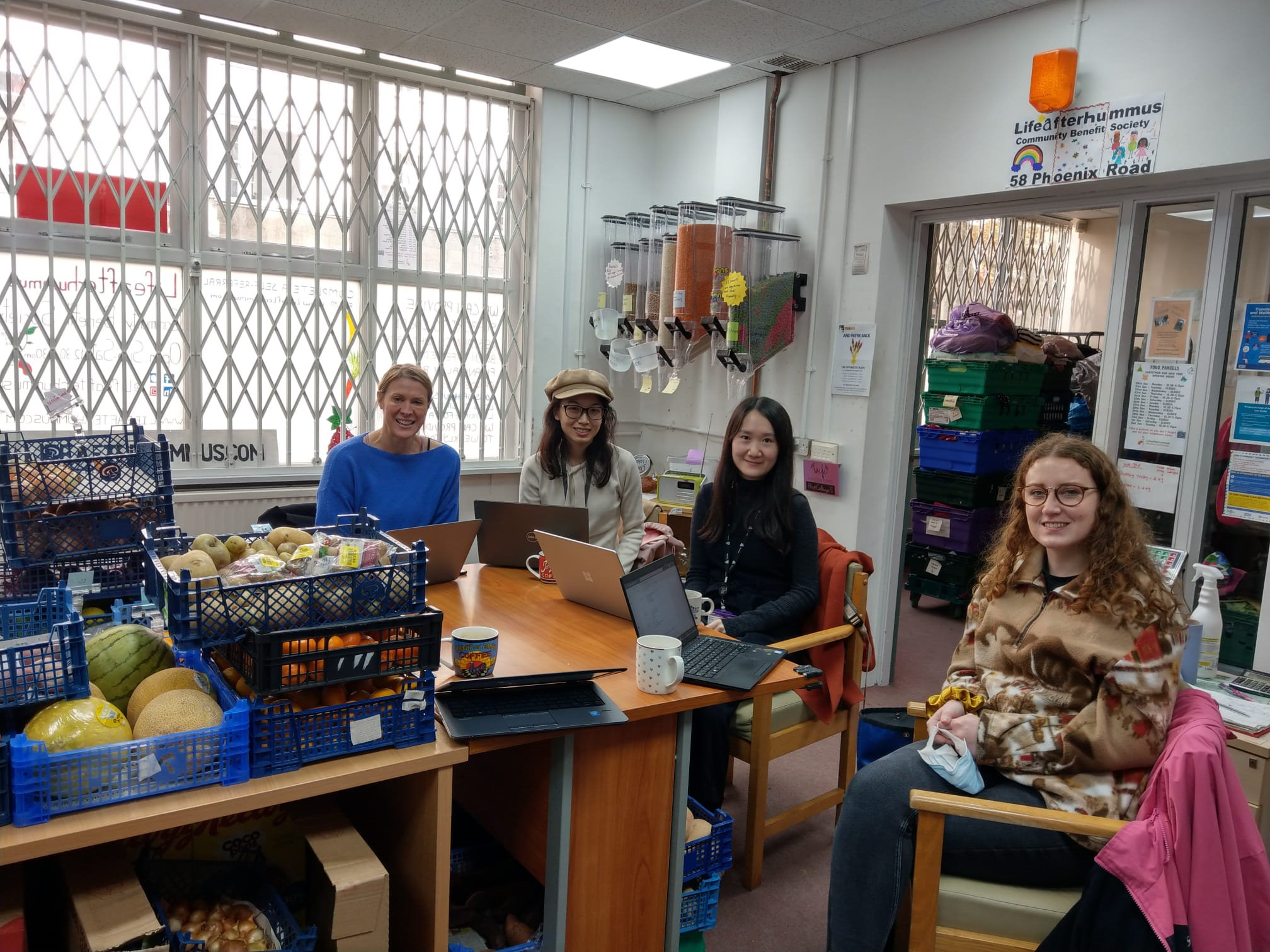 As a research team we had the pleasure of being able to spend a lot of time with Farrah Rainfly, who is the co-founder and also Operations Manager of LAH. The most crucial thing we did at the start of the project was to visit the site to get a thorough understanding of the work done by LAH. This was an essential part of the exchange as, not only did we understand how LAH operated and how they supported their beneficiaries but, as a research team, we had a thorough understanding of LAH aims for the exchange. Due to the limited timeframe of the exchange, workshopping ideas enabled us to develop achievable and concise objectives.
Social Return on Investment (SROI) is an outcomes-based measurement tool that helps organisations to understand and quantify the social, environmental and economic value they are creating. While the surplus food and othersupport LAH provides offers an immeasurable benefit to the Camden community, the SROI method will help them capture the beneficial outcome in a monetised form. The challenge for SROI is to identify the key social benefits and rigorously monetise them. The general methodology is visualised as follows, while The Green Book: Central government guidance on appraisal and evaluation from HM Treasury, The volunteer Investment and Value Audit (Katharine Gaskin, Jan 2011), and calculator and value bank from Housing Associate Charitable Trust (HACT) will be drawn on to customise the research methodology using existing social value indicators.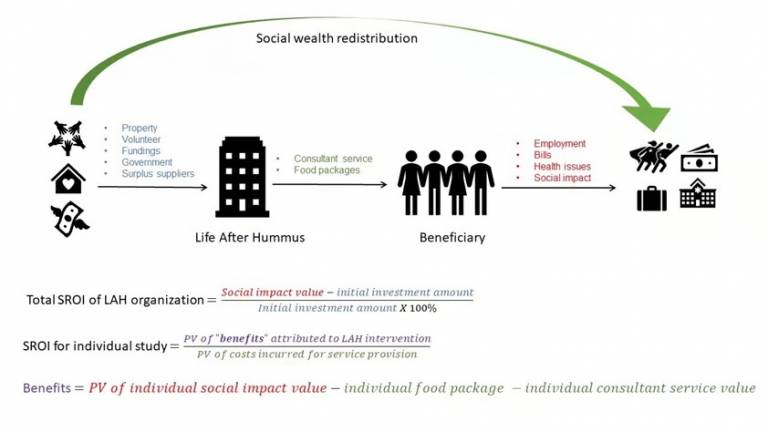 Once the data has been analysed, the team will undertake 1 to 3 case studies to provide illustrative, real life examples, to highlight the main findings.
In our research team we have Eleanor who is in her 4th year of her PhD at UCL's Bartlett school of sustainable construction and her research explores the social cost of carbon. Xinyue, is her 3rd year of her PhD in UCL Chemistry department, working on material synthesis and application for gas sensor and photoelectrochemical water splitting. Nancy, is a 4th year PhD student at UCL's Genetics Institute and researches how we can use genetics to understand human history. Claire, is a final year PhD student in UCL's Geography department, with a research focus on queer asylum seeking in the UK.